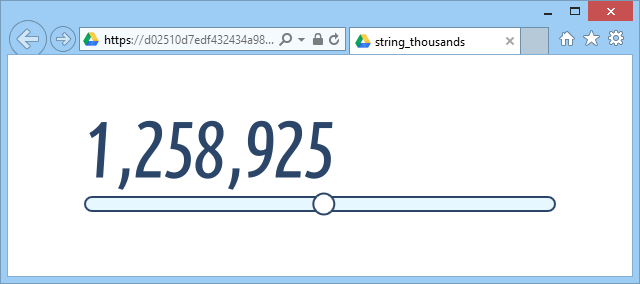 Being able to quickly upload a HTML5 game to the web is important.
It's not just a more comfortable format for sharing, but sometimes a requirement, since games created with GameMaker: Studio, Construct 2, Haxe+OpenFL and many other tools may not necessarily fully function when launched locally due to browsers laying restrictions over local file access (meaning that sending a ZIP with game files may not quite work).
While it used to be possible to host HTML5 games on Dropbox for free (or, rather, it still is possible, but only if you have enabled the public folder before the late 2013, else it'll cost you some), you can still host HTML5 games freely on Google Drive.
And this article explains the process of hosting your games on Google Drive in detail.
ATTENTION: this feature had been gone for a while.
First things first, you need to login to Google Drive (obviously). If you have a Google account, you should already have that set up automatically.
Then create a folder for your game using the self-descriptive button on the left-hand menu:

Location and name of new folder don't really matter, but you should generally try to sort your folders based on some criteria instead of dumping them in "root" folder.
Here I've created a folder for what's going to be a web demo of a slider from my "adding thousand separators" blog post. It's situated in a folder for current month, which, actually, doesn't contain anything else in this case, because I was uploading files elsewhere:

Now navigate to your newly created folder. Being newly created, it should contain nothing but a comfortable void:

Then upload your files. You can just drag them from your computer to the folder (viva la HTML5 File API), or use a upload button. Keep in mind that your index.html file should be at top level of the folder. Here, my application is just 4 files, which I've uploaded: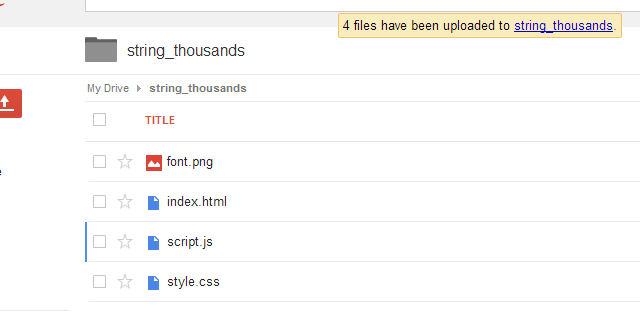 For folder to be accessible, you need to setup it's permissions and get it's ID. Both tasks are accomplished via "Share" menu item that you can access from folder menu: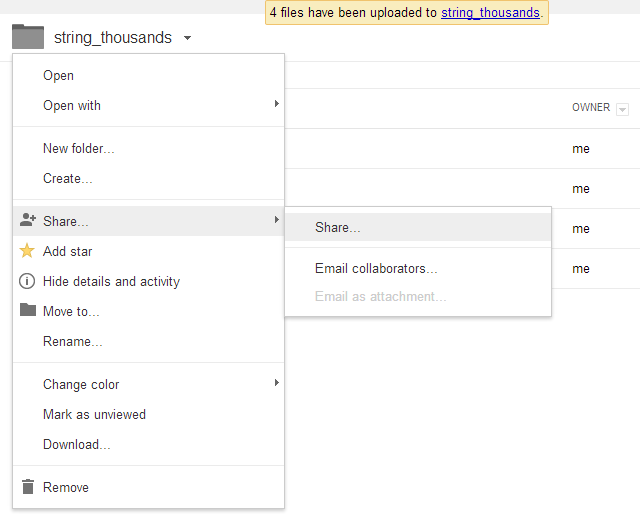 A medium-sized window appears, providing you a link to the folder (we'll return to this later), a bunch of social buttons, and information on folder access:
Update (September 2014): Now a slightly different sharing window is shown (example), where you need to click "Advanced" first.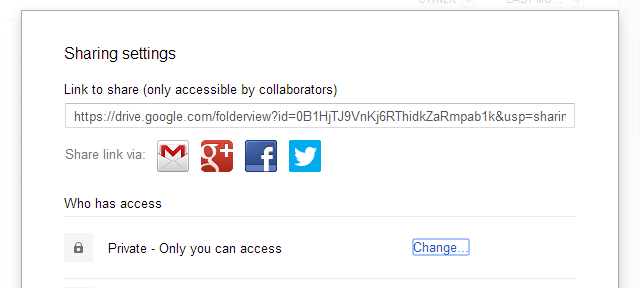 By default, folder access is set to "private", meaning that only you can access the contents. Since this is a folder with game, that is not the right option, and should be adjusted by clicking the "Change..." link next to it.
A slightly smaller window then appears, providing control over sharing options: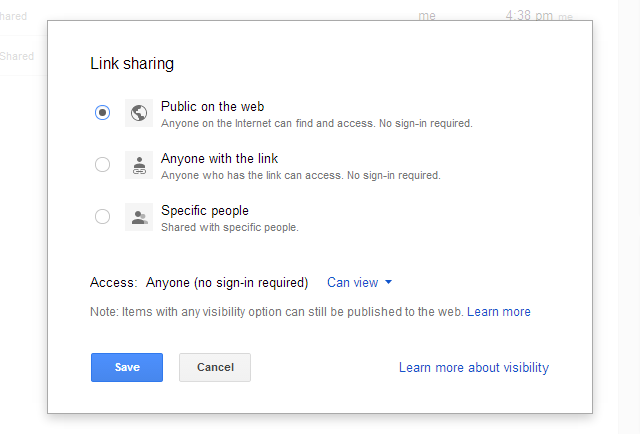 Here you need to set permissions to "Public on the web" + "Can view" and hit "Save".
Once "Save" is clicked, you are taken back to "Sharing settings" window, which will now display updated information.
While it may seem that all is done, the "link to share" is not the one you need though - that just displays the file list from folder, which is no help to running the game.
What you have to do, is instead copy the folder "ID" from URL,

And paste it at the end of "host" URL being
https://googledrive.com/host/
like so:

This is also the URL that you can later share with someone (example).
If you've done everything correctly, afterring hitting Enter the URL will change into a slightly longer one, and you'll see your game/application live: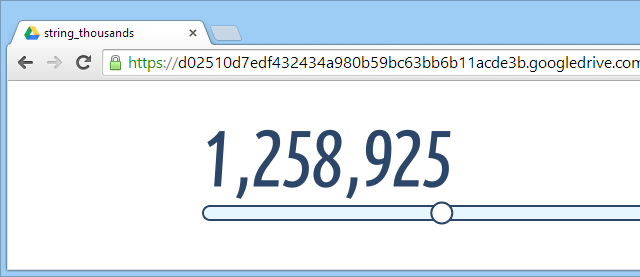 And that's it. A link to the game can be later shared with players/potential sponsors/whoevever, and will work as long as the folder is on your Google Drive and has permissions intact.
Related posts: